Whole Food Approach to Holistic Nutrition
With advanced nutritional training, our San Luis Obispo chiropractic clinic provides whole food nutritional supplements recommended to help improve the quality of one's diet. Order now at our online store at https://powersourcechiropractic.standardprocess.com/products
A cornerstone of good health is eating a healthy diet. In a perfect world we would be eating nutrient-dense, organically-raised, freshly grown, without chemicals or additives. However, between what is available to Americans today and what we choose to eat, our diets are actually quite lacking in.
Therefore, an important part of Express Life More Fully is ensuring that you are receiving the nutrition you need each day with high quality whole food supplementation. At Powersource we provide whole-food supplements that have their enzymes, phyto-chemicals and vitamins complexes left in tact as nature intended. Below is a sampling of the various high quality nutritional supplements that we carry in our clinic.
1. Omega-3 Fatty Acids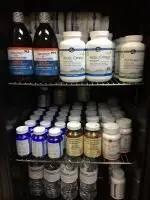 Fish oil provides you with two specific omega 3 fatty acids called EPA and DHA. These fatty acids make up over 94% of your brain and make up all of your cell walls. They are also integral in healthy cardiovascular function. In fact, in Europe, omega 3's are prescribed for anyone who has a heart condition or has had a heart attack. They have also been shown to help relieve chronic joint pain, skin disorders as well as allergies and asthma. Fish oil is the cleanest form of omega 3 fatty acids we can get today due to our toxic environment. In a day where pregnant women are warned not to eat fish because of the levels of mercury and other heavy metal poisons, molecularly distilled fish oils provide a clean supplement which is vital for our health. To learn more read Why You NEED to Supplement with Fish Oil blog
Fish oil provides you with two specific omega 3 fatty acids called EPA and DHA which make up over 94% of your brain and make up all of your cell walls. They are also integral in healthy cardiovascular function.
Source www.innatechoice.com
2. Multi-vitamin / Multi-mineral
According to an article in a leading medical journal, there is a link between vitamins and the reduced risk of chronic diseases. Research also says that all adults should take a multi, daily. This is true even if you already eat a diet rich in fresh, whole, natural foods, because foods can't supply all the vitamins and minerals you need, at the recommended levels. We carry several versions based upon your specific dietary needs.
3. Probiotic Supplementation
Probiotic bacteria are an essential requirement for proper immune system function, digestive system function, and vitamin production. In other words, sufficiency of probiotic bacteria is essential for the proper health and function of every cell, tissue, and organ in the body. Read more about gut health here. For more information read our blog Why you Need to Supplement with a Probiotic
The best general-purpose probiotic supplements combine several species of beneficial bacteria with a competitive yeast strain. Look for supplements that contain bifidobacteria and Lactobacillus species such as L. acidophilus in the billions. The number of colony-forming units (CFU's) your probiotic should contain is 25+ billion species. Because probiotics are living bacteria, they are also extremely sensitive to even the slightest change in environmental conditions. In fact, research has show that after one year on the shelf, in a sealed bottle at room temperature, on average only 32% of conventionally produced probiotics survive.
4. RAW Greens Supplement
Most people know that they need to be getting plenty of servings of vegetables and fruits each day but they simply do not have the time to juice or prepare all their veggies for the day. This is where a RAW Greens supplement comes in. It is a freeze dried green powder filled with vegetables, fruits, sprouts, Probiotics and enzymes. It is rich in all the vitamins and minerals and is preserved in its raw form. It is a magnificent way to get super nutrients. When buying greens supplement products, read labels carefully to make sure you're getting the most value for your dollar. Our chiropractic clinic carries a product that is:
Organic: Similar to fresh fruits and vegetables, greens supplements have the potential to soak up pesticides from their growing environments.
Raw: freeze-dried at low temperatures (rather than heat treated) using whole foods to maintain the nutrient potency as nature intended.
Concentrated: Several greens supplement products contain many not-so-healthy types of filler such as artificial sweeteners, artificial flavors or processed sugars.
5. Vitamin D3-Complex Supplement
Vitamin D is made by your body when you are exposed to the sun. Vitamin D enhances your immune system, helps manage inflammatory responses and activates the immune system in your skin. During the fall and winter months especially, we do not get enough sun which can leave you deficient in Vitamin D. Supplementation is a must during these times. Powersource carries the naturally occurring Vitamin D3 (vs synthetic D2) and is free of artificial concentrates.
5. CBD Products
Many people are "modernizing" their medicine cabinets with the revolutionary healing powers of CBD for chronic pain, insomnia, and a host of other health conditions so look to Powersource for your high quality, THC free CBD oil and capsules.
In closing, I know that at first glance this looks overwhelming, but remember that the better you eat the less you have to supplement. I recommend a high-quality fish oil and multi-vitamin/mineral at minimum.
It is important to receive individualized nutritional counseling before starting any supplementation. To schedule a complimentary consultation with Dr. Dubrul of Powersource, contact him at 805-781-9155 or by requesting an appointment.
These statements have not been evaluated by the Food & Drug Administration. These products are not intended to diagnose, treat, cure or prevent any disease.
At Powersource, we understand that each person is unique when it comes to getting to the root of health issues.