Specific & Gentle Chiropractic Care
In practice for over 20 years on the Central Coast, Dr. Dubrul uses a gentle form of chiropractic treatment on the spine and extremities. On each visit, Dr. Dubrul will utilize a thorough analysis of your structural alignment from head to toe, while providing only the care you need with specific and thorough adjustments. He will also address structural issues of your shoulders, forearms, wrists, hips, knees, ankles and feet. His chiropractic objective is to reduce abnormal movement patterns of vertebrae (called "subluxations"), which result in an increased range of motion, reduced nerve irritability and improved function. Through these gentle chiropractic adjustments, he will impact the function of the underlying nervous system through the spine, which exists in your neck, middle and lower back.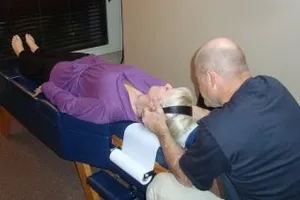 Techniques Used
At Powersource, we understand that quality care should never come at the force of hand when achieving your health care goals so Dr. Dubrul utilizes a variety of different techniques to get the best results possible. If necessary, he uses a small, hand-held Activator instrument to deliver motion into a joint. Other healing therapies utilized may include trigger point therapy, stretching, physical rehabilitation exercises, and lifestyle wellness counseling when needed. Dr. Dubrul emphasizes compassionate and personalized care, and the treatment will vary for each individual.
Activator Method
For this reason Dr. Dubrul also utilizes Activator Method, which is a gentle, low force alternative way to deliver a chiropractic adjustment to any bone/joint in the body without the use of the hands. Activator technique utilizes a small, hand-held instrument to deliver safe and very specific movements into a joint. There is no twisting of the spine or cracking noise involved.
It is an instrument that is accepted as a valid method for correcting subluxations by Medicare and is usually helpful in the treatment of the elderly, although anyone who prefers an alternative to the hands-on manual techniques.