At Powersource Chiropractic, we are passionate about "Helping you Express Life More Fully" as read by our mission statement and realize that wellness is not a destination but a process. Through our Lifestyle Wellness Counseling we will help you determine your current state of wellness so that we can provide you with your unique starting point on the Path of Wellness. Our practical research and science-based Lifestyle Wellness Counseling program addresses important health issues comprised by Wellness including: Nutrition/Hygiene, Exercise/Fitness, Stress Reduction and Positive Mental Attitude.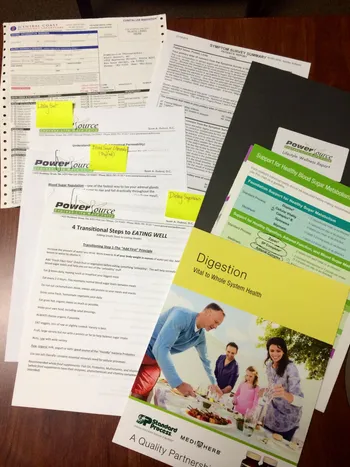 At Powersource our Wellness Consultations address the WHOLE person including lab work (saliva and blood), dietary changes, lifestyle adjustments and whole food nutritional support.
Wellness: A Neat Fit for Chiropractic
Recognizing the growing public interest in wellness, Dr. Scott A Dubrul completed the Wellness Certification Program in 2005 making him a leading force in the new wellness movement. The evidence based program emphasizes nutrition and natural hygiene; wellness physical fitness and spinal hygiene; and wellness state of mind, stress hygiene and the secrets of generating lifestyle changes.
Dr. Scott Dubrul offers his patients a practical, research and science-based approach to wellness that addresses important health issues that patients can begin to address immediately. Patients who consult with Dr. Scott Dubrul build a genuine understanding of optimal health. Patients are equipped to address lifestyle changes from an "Add First-Before You Take Away" approach.
Sufficiency in Diet
With all of the diets out there today, it is hard to know exactly how you should eat. In truth, it simply comes down to eating the proper amounts of the foods you need. Then, you must make sure that the foods themselves are pure and natural. I will be able to design a specific way of eating based on the most up to date research, catered to your specific nutritional needs. We know each person is different; therefore all of your needs will be evaluated specifically in reference to your health care goals and needs.
Sufficiency in Movement
Proper movement of the joints, especially those of the spine have been called an essential nutrient for brain function and development. This can be attained by specific chiropractic care accompanied by specific exercises based on your condition. Dr. Scott Dubrul will be able to assess your structural needs and give you the care that will create that needed sufficiency in movement.
Sufficiency in Positive Thoughts
By thinking positive, your brain releases specific chemicals that actually stop the stress response (a release of stress hormones, which released over a long period of time, cause harm to the body). It is absolutely vital to keep a positive outlook on life. Thinking positive keeps your stress down and keeps you moving toward optimal health. Dr. Scott Dubrul will provide you with exercises that will teach you how to accentuate the positive and eliminate the negative.
Sufficiency in Physical Fitness
Science has now proven that regular physical exercise is needed in order to attain optimal health. We now see the effects of the lack of exercise through diseases such as cancer, heart disease, obesity and diabetes. The most current research allows us to know how much exercise we need to create optimal health in our lives. I will assess your health care goals and needs to best serve you.
Isn't it time that you Express Life More Fully on the Path of Wellness? Schedule your Lifestyle Wellness Consultation to learn more about how we can empower you on the Path of Wellness now!
Download our Female Health History Questionnaire
Download our Male and Children Health History Questionnaire