What Our Non-Profit Organization is All About
For the past 22 years, Dr. Dubrul has been heading Chirofeed, a non-profit organization who sole purpose is to provide a very exciting day of Christmas for those who aggregate at Prado Day Center San Luis Obispo. Chirofeed functions to provide every person who attends with brand new backpack, hats, gloves, under garments and toiletries, a full course BBQ chicken and Christmas presents complete with Santa. The giving doesn't stop there however. The chiropractic doctors provide free chiropractic care and muscle therapy to help these folks relax, feel better and function better.


This year Chirofeed will be held at the NEW Prado Day Center, SLO on Saturday, December 11, 2020 from 9:00am-1:45pm.
The day consists of: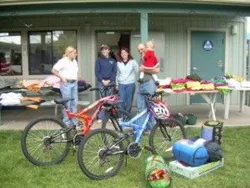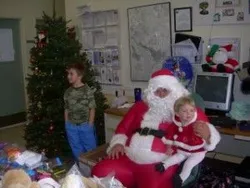 Chiropractic Care
A Visit with Santa
Manicures
A Delicious Meal
Massage
Health Education
Gifts for Everyone
Haircuts
How You Can Get Involved
Chirofeed is funded solely through donations and fund-raisers. We need your help this year in the form of donations, toys and time. We need at least 300 backpacks, jackets, sweaters, and enough toys to provide a full Christmas to all. You can help by donating any of the above items or simply volunteering your time (all donations are tax deductible).
We also hold a raffle with donated items:
Bikes and Helmets
Portable CD Players
Gift Cards
Donations that are useful:
Large Backpacks
Men's and Women's Socks, Underwear, Jackets, Sweaters, Mittens, Knitted Hats
Telephone Cards, Watches
Blankets, Sleeping Bags, Toiletries, Brushes and Combs
Toys for Children
Batteries and Suspenders
Many volunteers participate in this annual event with love and joy. We are extending an invitation to you to be a part of this wonderful day. Your donation will be appreciated. If you would like to volunteer we welcome you–you will be a part of this miracle in action. Help us bring a joyous Christmas to many and make someone happy by knowing that they are a valuable child of God–someone who matters. If you have any questions, please feel free to contact our office at 805-781-9155.